UrbanLegendsOnline.com » Facebook & Twitter, UrbanLegendsOnline » HACKERS ARE PUTTING SEXUAL VIDEOS… on Facebook

ATTENTION: THE HACKERS ARE PUTTING SEXUAL VIDEOS TO YOUR NAME IN THE WALLS / PROFILES OF YOUR FRIENDS WITHOUT YOU KNOWING IT. YOU DONT SEE IT, BUT OTHER PEOPLE CAN SEE IT, AS IF THESE WERE A PUBLICATION THAT YOU MADE! ALSO, THEY'RE SENDING INBOX MSGS TO YOUR FRIENDS ASKING YOU TO CLICK A LINK. DON'T DO IT!! SO IF YOU RECEIVE SOMETHING FROM ME ABOUT A VIDEO OR A STRANGE INBOX MESSAGE, IT'S NOT ME! COPY THIS TO YOUR WALL. IT IS FOR THE SECURITY OF YOUR OWN IMAGE!!! And REPORT IT!!!!! ALSO IF U ARE ASKED TO VOTE ON A PICTURE. DO NOT GO & VOTE: IT'S A HACKER!! POST THIS TO YOUR WALL FOR YOUR FRIENDS!!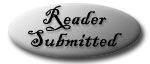 Rajan
UrbanLegendsOnline:
Turns out this is not a clickjacking scam, just Facebook users widely sharing a rumor. This article from MSNBC tells you more and gives you info on what to do if you do click on something you shouldn't that will clog up the walls of your friends and family on Facebook.
Filed under: Facebook & Twitter, UrbanLegendsOnline · Tags: facebook, hidden, hoax, sex, share, status, videos